Jewel's great achievements
3rd July 2010
Captain Saleh Al Jabri
Captain Saleh Al Jabri reflects on the voyage of the Jewel and what it has achieved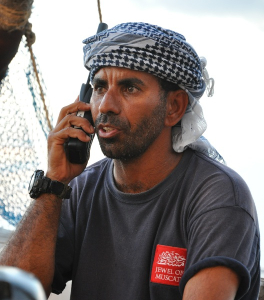 It is a great honour to have captained this ship, The Jewel of Muscat, across the Indian Ocean, from Muscat to Singapore, tracing the path of our ancestors twelve hundred years ago.
The crew have loved and cared for this ship, learning to listen to her, to read her better day by day. They know the sound of the wind in her sails, the creak of her rudder, the rhythm of the waves against her hull.
For nearly five months, this ship has been our kitchen and our cradle, our office and our classroom.
Our lives have depended upon her, in the most adverse weather conditions, on tossing seas and in driving winds.
She has not failed us. She has surprised and perplexed us on many occasions. But she has proven loyal and true, exceeding our expectations, and above all protecting our lives.
On her deck, we have gained a whole new respect for our forefathers, learning to navigate by the stars, as they did centuries ago.
From her bow, we have seen astounding sunsets.
But her greatest gift, I think, is that in her beauty and her mystery, in the challenges and the hardships of the voyage, she has created an entirely new family. At the heart of the connections we speak of are the relationships formed among people, on the most personal of levels.
For the crew of the Jewel of Muscat, this voyage has also forged unforeseen relationships to our past. We have gained a real connection to, and a deep respect for, our ancestors who went before us, charting the course, mapping the stars.
But perhaps more importantly, it has produced unbreakable relationships among us here in the present.
We knew when we began that this was an international project. We had Omanis and Italians, Indians, Australians, Sri Lankans, Singaporeans, Malaysians, and British, among others.
This ship has shown us that when it comes to people, there are no borders. This crew has become a group of brothers, of true and loyal friends. I suppose this is inevitable after nearly four months with the confines of a ship, subject to 9th century conditions.
But it has united a family even wider than this.
At each port, we have been welcomed by smiling faces. These smiles speak a universal language. They have transported us home, to those we love, when we are miles away from our homes and families.
This voyage has united groups of complete strangers into a Jewel of Muscat family. She has touched hearts and minds around the globe.
In Georgetown, for example, we met a seventy-year-old lady who had been unwell for several months. When she heard of the Jewel of Muscat, she was so inspired that she forced herself out of bed for the first time in weeks. She returned to visit us again, and stayed with us during the departure ceremony, standing in the hot sun for two hours to see us off and bid us a safe voyage. She spoke about meeting us in Singapore. I hope she made it here. She is now part of the Jewel of Muscat family.
I will miss this ship dearly. The past few months have been challenging and profound. This voyage and this ship, have brought about much growth in all the boys here, and in myself.
I thank my Crew and all of our supporters, around the world. And we all thank this Jewel of Muscat for the lasting gift she has given us – the incredible family she has brought together.
I also want to thank the many other people who have helped make this voyage possible and made sure people heard about it. I thank exceptional individuals like Tom Vosmer and all of his team, Ambassador Lyutha, Ambassador Humaid, Nick Swallow, Simon Gallimore and his media team, Helen Kirkbride, Chris Biggins, Zakariya A'Sadi and Oman Sail, who helped us in so many ways.
And above all I wish to express my heartfelt gratitude and indebtedness to His Majesty Sultan Qaboos bin Said and Oman's Ministry of Foreign Affairs for granting me and all the Jewel team this once in a lifetime opportunity to undertake this great and unique project for the benefit of human knowledge, understanding, engagement and love between Peoples.
Though it will be difficult to leave the Jewel of Muscat, I am proud to leave it in such caring and capable hands with our friends in Singapore.