The father of the ship
1st July 2010
Dr Tom Vosmer, Construction Director
As Jewels epic voyage draws to a close Dr Tom Vosmer, Construction Director looks back over the project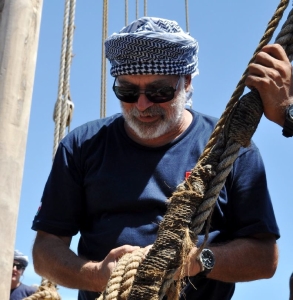 In the late 1990s when Dr Michael Flecker first sent me drawings and photos of the Belitung shipwreck which he was excavating, the ship on which the Jewel of Muscat is based, I could not imagine that more than a decade later I would be aboard a reconstruction of that ninth-century vessel poised to make its entrance into Singapore. To come this far – literally and figuratively – has taken years. The ship has made her journey the thousands of miles from Muscat. She and her magnificent international crew have worked together to bring each other through calm and ferocious storm, through days of frustration and days of elation.
We who built Jewel have had our own metaphorical journey. I recall the early days – the organisation, planning, designing, testing, experimentation, the endless discussions with Mike and Nick Burningham the designer of the ship about its shape and structure; the complex searches for authentic materials, and for the people who would know how to process and assemble those materials into our lovely ship. Throughout construction discussions about the archaeological evidence swirled about, leading us by twists and turns through the reconstuction process. Sometimes the evidence was enigmatic, ambiguous, baffling. Sometimes it generated an epiphany of understanding, a marvellous revelation of the cleverness of ninth-century shipbuilders. Plank by plank Jewel was carefully sewn together, the frames sewn in, the massive beams fitted and sewn, the whole process orchestrated and documented on site by Luca, Eric, Alessandro and Helen.
Sitting here now at anchor, awaiting the entry to Singapore, I feel a strange brew of emotion – excited anticipation, relief, wistful sadness. The anticipation of celebrations on arrival, of being reunited with loved ones competes with relief that with the safe arrival of Jewel the pressure will finally be released, but at the same time wistful sadness that the project is coming to an end hangs over it like the mist on the water. But as 'Abu Safina' (Father of the Ship) a name I seem to have lately acquired among the crew, I also feel a deep satisfaction. The ship has performed magnificently, we have learned so much about ancient ship construction, sailing, and navigation. All those involved in the design, creation and sailing of Jewel of Muscat must be justifiably proud to have been a part of this great adventure. I thank them all.