Arrival in Penang – thinking of home
5th June 2010
Captain Saleh Al Jabri
The Captain of the Jewel gives his view on the ship's arrival in Malaysia and the storms back home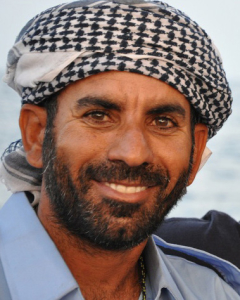 The last few days before arriving in port are among the most challenging of all days spent on the sea.
You dream of a shower, a hot meal and a long sleep in a bed. But nature toys with your emotions, as unpredictable wind patterns prevent you from making any headway at all. You are so close, and yet so far away.
This was our experience upon approaching Georgetown. At first, it looked as if we would arrive as early as the 29th of May, but then the ship stuck. The currents flowed against us and at times we found ourselves moving backwards. It was a real test of patience.
And then we were hit by a squall with winds gusting at over 30 knots, snapping the lower yard of the main sail in two. Yet we were unable to use the winds to our advantage. We were no nearer to shore, and missing a yard.
This has been the most challenging and extraordinary leg of the journey thus far. We reached our top speed of over 11 knots, which was really exciting. We have encountered everything, from intense weather to the frustration of the doldrums and being so close to, yet so far away from, the smiles of those waiting to welcome us.
Through it all, the crew has proven to be a real dream team. During our daily briefings, each member of the crew asks what he can do to help more. The teamwork and camaraderie aboard ship are invaluable.
It has been a real test, frightening at times, but it has produced a family of brothers from a group of over six nationalities. And it has transformed boys into men.
The crew are delighted to be on land after one of the most dangerous stretches thus far. There is nothing like seeing the warm smiles of loved ones waiting to greet you at port. We were excited to be welcomed in Tanjung Marina by faces we knew, such as Her Excellency Lyutha Al Mughairy, Chief of the Office of the Secretary-General of the Ministry of Foreign Affairs, His Excellency Aflah Sulaiman Mohammed Al Taei, Ambassador from Oman to Malaysia, and by those we were meeting for the first time in Penang, such as Right Honourable Mr Tuan Lim Guan, Chief Minister of Penang, and a number of officials from the Penang Port Commission and Penang Global Tourism.
We were also relieved to contact our families at home in Oman, where a tropical storm is battering the coast.
Our hosts in Penang have rolled out the red carpet for us, arranging lunches, tours, and a Gala dinner in our honour complete with performances by local dance troupes, and official addresses by dignitaries including Ambassador Lyutha Al Mughairy and Singapore High Commissioner and First Secretary Mr Walter Chia. The boys have certainly been enjoying the change in scenery and diet, exploring the colorful markets and the famous street food.
If you ask a local about the best features of Penang, he will say food and shopping.
Penang is a real melting pot of all cultures, languages, and peoples. You'll hear a number of languages spoken, including Malay, English and several Chinese and Indian dialects. There are Buddhist, Taoist, and Hindu temples, Islamic mosques, and Christian churches, and the special holidays of each are celebrated year round.
Penang is known for its street food, tasty local dishes like Laksa, a spicy and sour soup, and Char kway teow, fried flat rice noodles with chilli spices and seafood. Then there's the infamous durian, a type of melon that smells so terrible it is prohibited in most hotels and restaurants. But if you can get past the smell, it tastes fantastic.
Being on land affords a strange opportunity to reflect back on all we have come through. The danger is certainly not over, as the Straits of Malacca are among the busiest shipping lanes in the world. We'll be anchoring every night out of caution. But the greatest trials on the open seas are mostly behind us, as the next two legs should be very short in comparison to the previous three.
As we approach Singapore, our excitement grows at this opportunity to present this gift from Oman to the people of Singapore. Our prayers remain especially with all our loved ones at home in Oman. We will keep them at the forefront of our thoughts during this next leg in particular, hoisting the flag on behalf of them and all of Oman.