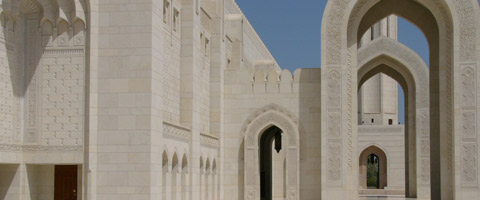 Profile of Muscat
The political and commercial centre of Oman, Muscat, has a long and interesting past.
Muscat was an established port town by the 2nd century. In 1507, the Portuguese established a naval base and trading post in the city, enclosing it within the large walls that remain today.
The port reached political prominence when the Al Busaidi dynasty made Muscat its seat of power in the mid-18th century. Its name, meaning "a place of falling" and referring to the dropping of an anchor, reflects its maritime tradition.
Modern Muscat has become the centre of Omani commerce and politics. From 1970 it expanded rapidly, eventually spreading 40 kilometres up the coast to the airport. The old city itself has been regenerated by Sultan Qaboos, ensuring the protection of its rich cultural heritage.
Metropolitan Muscat covers more than 1,500 square kilometres and is growing all the time. Its population is now more than 1,000,000 and continues to grow.
Muscat is the seat of Omani politics: the government, and Majlis Ashura and the State Council, which assist the government under the terms of Oman's Basic Law 1996, are both based there.
The architecture of the city reflects its diverse history: its white buildings show a mixture of Arab, Persian, Indian and African styles.
Given Oman's climate, the city is also remarkably green, with public parks and grassy areas.
The city offers much to do and see. Two 16th century Portuguese fortresses overlook the Sultan's palace. Oman's Ministry of Tourism also lists diving spots, the ancient Matrah Souq, Sultan Qaboos Grand Mosque, a number of museums, galleries and parks, as activities for those visiting the city.