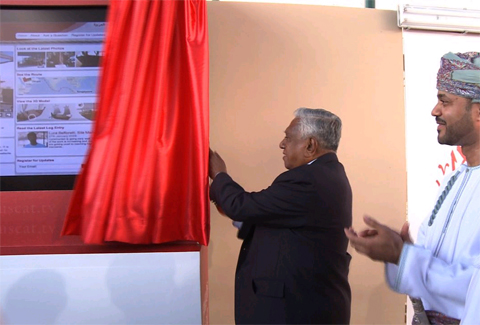 Speech delivered by Sayyid Badr bin Hamad Albusaidi, Secretary General of the Ministry of Foreign Affairs
15th March 2009
Your Excellency President S.R. Nathan,
Distinguished members of the delegation,
Your Excellencies,
Dear guests,
Sponsors,
Ladies and Gentlemen,
I would like to express our warmest welcome and our sincerest delight that President Nathan has chosen to honour us with this visit to the building site of the Jewel of Muscat boat, and kindly to launch the project's website.
Here in this ancient fishing village of Qantab, we are witnessing and indeed celebrating the return of an aspect of Oman's maritime heritage that instils within us great pride: the culture of friendly, diplomatic relations facilitated by the Indian Ocean trade, which has been underway for more than twelve hundred years.
In no small measure, we owe the foundation of this project to our Singaporean friends. His Excellency George Yong-Boon Yeo, the Foreign Minister of Singapore, was the first to break the news to us about the discovery of the Belitung Shipwreck, and it was initially his vision to construct a replica boat in Oman, in the spirit of celebrating a rich maritime heritage. His idea was received with excitement and enthusiasm, and with the blessings of His Majesty Sultan Qaboos, we embarked on this historical and educational initiative that promises to teach us so much about the Maritime Silk Route and ancient shipbuilding techniques, in order to rediscover the historic, economic, social, and cultural links between the Middle East and Asia.
Today, we are proud to see and be part of this great event in the making.
A word of realism and caution though; the road ahead is still long and difficult. The boat building has gone well, but the ambition to sail it thousands of miles across the ocean is a bold one. It remains to be seen whether our crew will have the resilience and good fortune of their forbears.
Despite the challenges, the Jewel of Muscat is a symbol of partnership rooted in a spirit of exploration and adventure. We are guaranteed success, for this common creative task before us cannot but strengthen ties between friends, working together, in a spirit of cooperation and connectedness.
In the modern era our two countries have enjoyed exceedingly friendly relations since 1985, when formal diplomatic ties were established.
Since then, we have benefited from positive bilateral ventures in trade, tourism, training, technology, exchange of expertise, and joint investment.
It was with great pleasure, then, that we welcomed the signing of the GCC's Free Trade Agreement, concluded with Singapore last December.
It is our hope, that the bonds cemented by the Indian Ocean trade network centuries ago, and extended by bilateral initiatives of the present, will be augmented by this adventurous and commemorative cultural project.
The faces that comprise the joint working group we see here before us, along with so many more, throughout the world, who are working hard on this project from behind the scenes, but who are unable to be with us today, themselves speak for the cooperation and friendship, between Oman and Singapore.
We hope, too, that this project will educate new generations, helping our children to better and fully understand certain aspects of their roots, heritage and identity, and a global audience to better understand Indian Ocean history, in particular about the Maritime Silk Route.
May I offer the warmest thanks to all those who have worked so hard to make this possible.
This project has been realised through the wise leadership and generous support of His Majesty Sultan Qaboos bin Said. We are truly grateful for his vision, and honoured to serve him in every way we can.
Now may I invite Dr Tom Vosmer, Director of Construction, to say a few words, on behalf of the boat building team.Then, one of our youngest team members, Lamya bint Harub al Kharusyyah will introduce the state of the art Jewel of Muscat website.