Information
The Jewel of Muscat, built on the beach at Qantab, Oman, is a reconstruction of a ship that was wrecked near the island of Belitung off the coast of Indonesia. The ship was carrying a cargo of Tang Treasure (60,000 pieces of rare Chinese porcelain), coins, gold and silver vessels and lead ingots for ballast. The ship is believed to have sailed from Arabia to China and then was heading back to Malaysia, India or Arabia with its precious cargo when it was wrecked.
On these early voyages some ships left from Oman and sailed across the Gulf of Oman and Arabian Sea to India. From there they would cross the Bay of Bengal and sail between the Malay Peninsula and the island of Sumatra to Singapore or sail north to Vietnam. Some ships would then sail on to China.
This sea route was used by traders as early as the 8th century. At the time it was the longest sea-trading route in the world.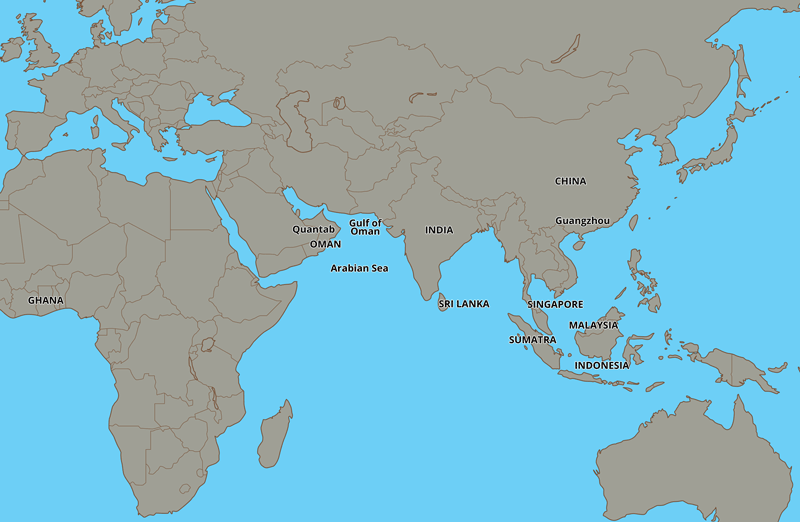 The Jewel of Muscat is named after Muscat, the capital of Oman. The completed ship will travel across the Arabian Sea, along the western coast of India, around Sri Lanka then across the Bay of Bengal and through the Straits of Malacca to Singapore. In Singapore it will be part of a new museum.
To reconstruct accurately a 9th-century ship, the Jewel of Muscat team had to search the world for the right materials.
Watch the video that shows where the wood for the keel has come from
Construction Director, Tom Vosmer travelled to Ghana in search of trees for the ship's construction. Evidence from the shipwreck shows the ship was built from Afzelia Africana. Ghana is one of the few places in the world where large trees of this species are available for timber.
01.49 mins
Watch the video that shows where the wood for the masts has come from
Site Manager, Luca Belfioretti goes to India on a search for the largest and straightest Poona trees for the masts and spars. The search is long and slow but finally suitable trees are found. An elephant is used to help move the trees.
04.54 mins
And, of course, the people who build the ship are very important too.
Watch the video to see what the Omani workers think about the Jewel of Muscat project.
The Omani trainees have tried their hand at every job on the site and give very positive accounts of their experiences.
01.42 mins
Test yourself
Answer the question or complete the sentence.
---
Intermediate geography
Test Yourself
Answer the question or complete the sentence.